The heating mattress is the tourmaline ceramic ball with photon mattress of our company. The main function of ceramic ball is to release far-infrared rays and negative ions. Their activity is mainly through stimulation of blood circulation, metabolism, immune system and cellular oxygenation.
| | |
| --- | --- |
| Model | Micro-Energy E100 |
| Size | 50*100cm (20"*39") |
| Thickness | 2.5cm (1") |
| Heating Area | 78*35cm (31"*14") |
| Power | 8m 125W |
| Mattress Weight | 3.2kg |
| Total Weight | 4.85kg |
| Packing Size | 52*12*52cm (21"*5"*21") |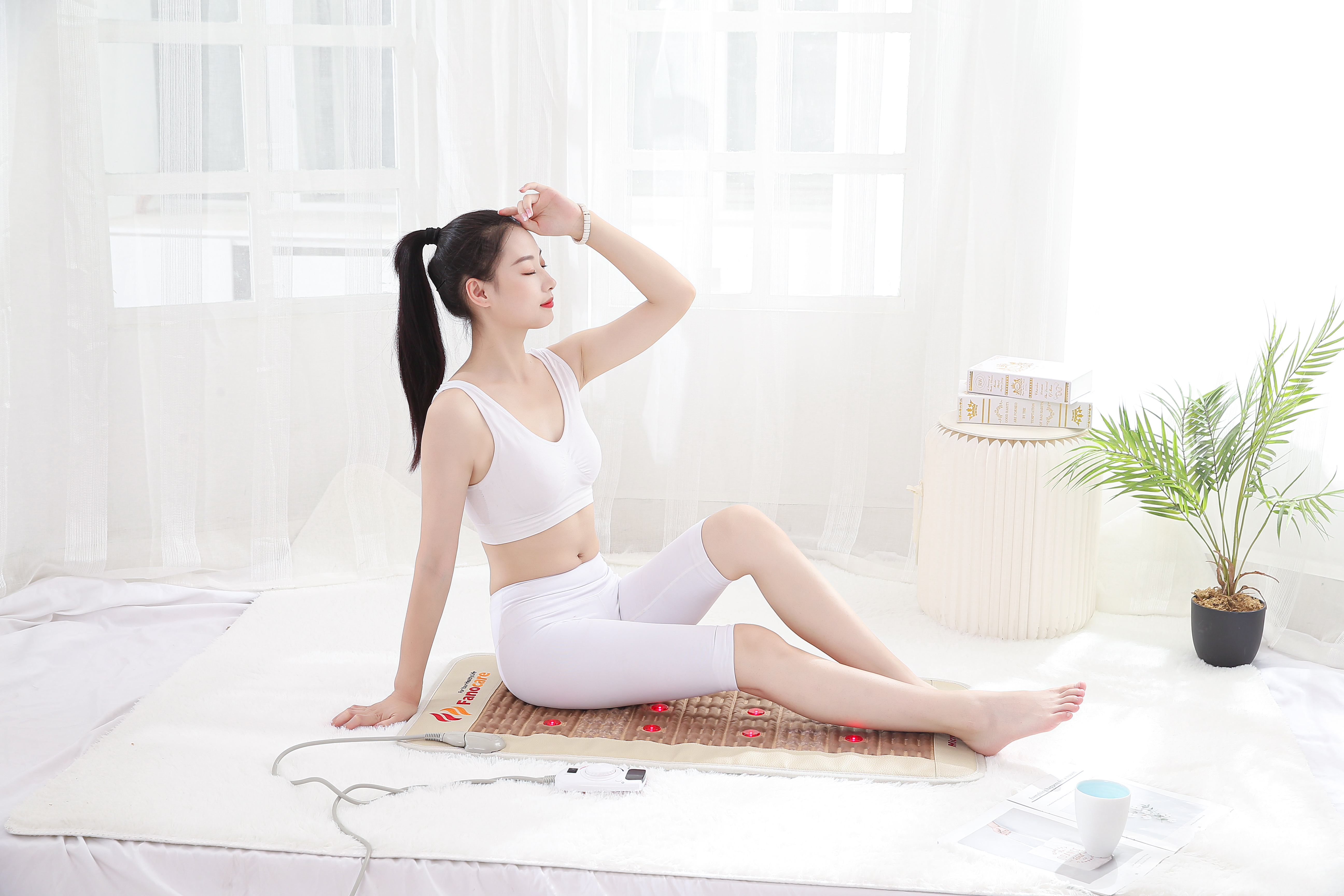 What is Tourmaline Ceramic Ball?
The Tourmaline Ceramic Ball is composed of tourmaline, medical stone, titanium oxide, zirconia, kaolin and other minerals. It is made by calcining at high temperature above 800℃.
Benefits of Tourmaline Ceramic Ball
The main function of far infrared ceramic ball is to release far infrared. Their activity works mainly by stimulating blood circulation, metabolism, immune system and cell oxygenation. Negative ions and Alkali are also added to the ceramic balls. Ions are electrically charged invisible particles. Cations are ions with a positive charge while anions are ions with a negative charge. Generally, there are a lot of cations in polluted air and anions are largely distributed in forests, beaches, and valleys where the air is free-flowing. In addition, a weak person will develop chronic diseases and preexisting diseases will worsen in air that is rich in cations. On the contrary, if there are a lot of anions, cells are activated and the resistance to diseases increases and the body becomes mildly alkaline and healthy.
However, in modern society, people are busy with their work and have no time to contact with nature, so their bodies have less opportunities to obtain negative ions. The Tourmaline Ceramic Ball can help you get more negative ions that body needs.
What is Photon?
Photon is a kind of LED light particle that carries information and energy. The far-infrared rays that it releases can penetrate deep into human tissues to stimulate cell regeneration, which has obvious beneficial effects on treating wounds, scars and skin imperfections.
Benefits of Photon
It can promote blood circulation, accelerate body metabolism relieve fatigue and pain in the body.
Advantages of Our Tourmaline Ceramic Ball Mattress
The normal of human blood is between PH 7.35-7.45, it's weakly alkaline. The blood is acidic if the brain is overused or overworked. It leads to poor health when it becomes acidic body. The effects of acidic body:
Increase blood viscosity to decelerate blood circulation. Lipids in the blood tend to deposit on the walls of blood vessels cause heart disease and cardiovascular disease.

Causes osteoporosis and bone deformation, it also affects teeth.

Slow circulation leads to insufficient blood supply to the eyes.

The skin of acne patients is acidic body. It can also lead to blotchy problems.

Lower the immune response, susceptible to colds and epidemics.
For those who are acidic, our Tourmaline Ceramic Ball Mattress can supplement the body's need for alkali to maintain a slightly alkaline body. In addition, our Tourmaline Ceramic Ball Mattress use tourmaline ceramic ball is covered with a layer of mesh, It is more suitable for the elderly and children.