The mattress is the jade product of our company. It fully radiates far-infrared rays to the human body when heated. It is suitable for back, stomach, leg or you are lying on it. It can reach your set temperature in a short time. Muscle soreness will be relieved by far infrared. Natural Jade is rich in 14 kinds of trace elements and minerals needed by human body. Studies have proved that trace elements have a great relationship with human health. It is important to note that these trace elements must normally be supplied directly or indirectly from the soil, but most people often do not get enough trace elements through their diet. So the use of jade mattress will become an important way to absorb trace elements. Sleep on the mattress overnight to extend the time you spend bolstering your wellness.
| | |
| --- | --- |
| Model | NobleMat G1000 |
| Size | 60*150cm (24"*59") |
| Thickness | 3.5cm (1.5") |
| Heating Area | 117*43cm (46"*17") |
| Power | 13.4m 180W |
| Mattress Weight | 6.85kg |
| Total Weight | 8.75kg |
| Packing Size | 61*13*52cm (24"*5"*21") |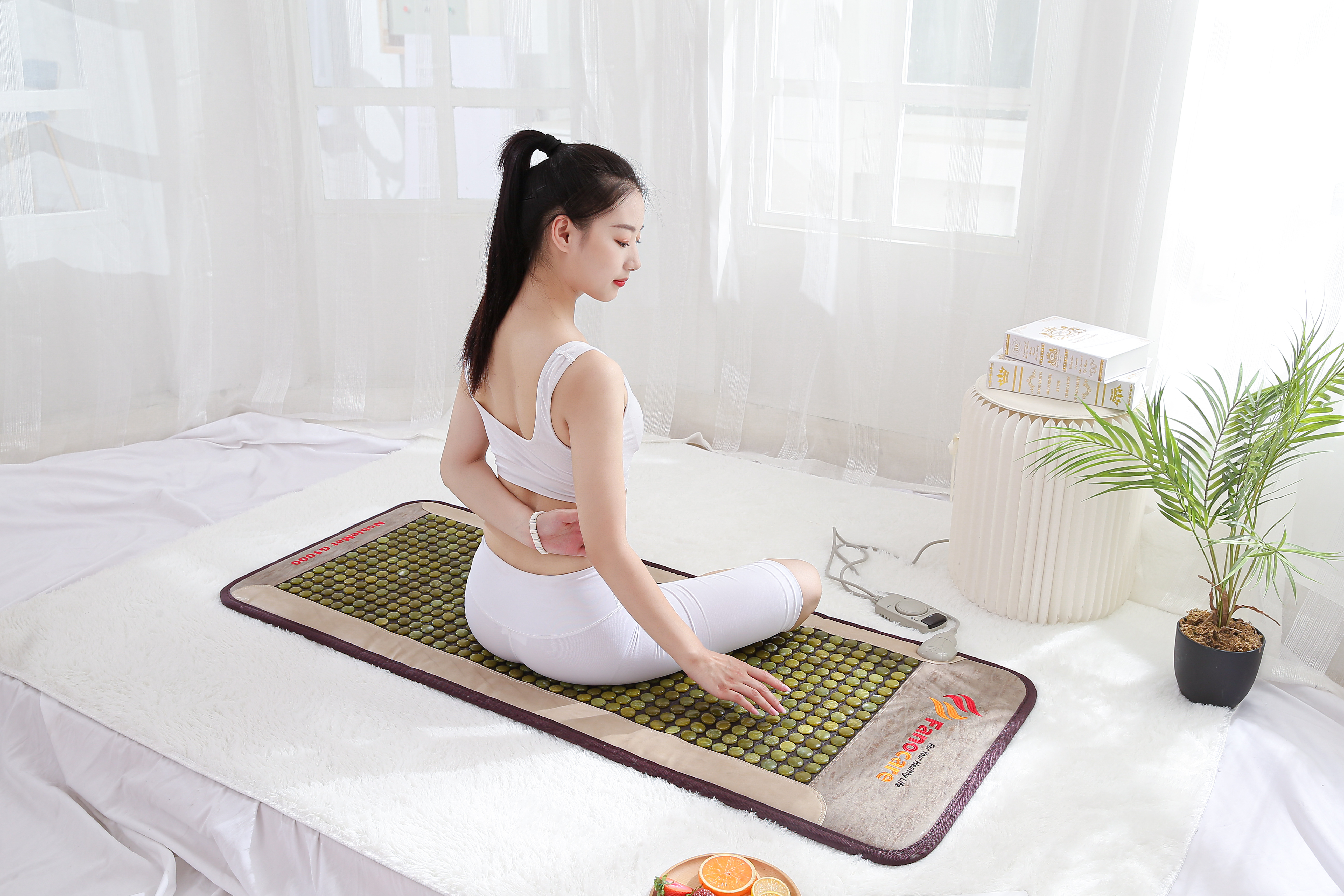 What is Jade?
Jade is a pure natural mineral, divided into nephrite and jadeite. Jadeite is often used as jewelry. Nephrite is widely used in jade heating mattress. Jade is a more noble type of ore. Jade is rich in a variety of trace elements, such as zinc, manganese, magnesium, cobalt, selenium, chromium, titanium, lithium, calcium, potassium, sodium and so on.
Benefits of Jade
Nephrite is a special mineral that emits a special life energy and activates dormant energy in the body by emitting far-infrared radiation thermotherapy energy of 6–14 µm wavelength, the most suitable wavelength for the human body, and absorbing the resonance of energy in the body.
Advantages of Our Jade Mattress
Our Jade Mattress use Natural Noble Jade. It can release healthy far-infrared rays, shield static and electromagnetic wave radialization. It also produces negative ions which encourage the cells metabolism. Natural Noble Jade has a strong penetrating power, acts even on the deepest parts of the body, magnetizes micro-elements in the body (magnesium, calcium, iron, sodium, oxygen, etc.), produces resonance according to the changing direction of the magnetic field, promotes the metabolism of cells by stimulating the cells of the body, and effectively discharges toxins from the body by strengthening the reproduction ability of cells. We also produce our own switches, the quality of switch manufacturers in the market varies, so to ensure that our mattress does not have any quality problems, we use own switches in order to increase the effectiveness of the use of Jade Mattress.